MVAVD design is a compact office for industrial and graphic design, based in Rotterdam, The Netherlands.
DESIGN & TECHNOLOGY
We create products and projects that have a clear vision of the future in mind – seen from the perspective of the application of technologies and the added value and effectiveness of design. Technology is made tangible, with emphasis on user interaction. Design reflects the vision on the products' innovations.
DESIGN WORKS
• Innovation consultancy
• Industrial designed products and services for professional and public use
• Design research studies regarding the application of new product technologies
DESIGN RESEARCH TOPICS
• New product technologies (concepts and applications)
• Smart products, environments, public space (information and communication technologies, industrial and interaction design)
MEMBERSHIPS
BNO (Dutch Professional Designers Organisation), KIVI (Institute of Chartered Engineers), Booosting (Foundation for Industrial Buildings), Holland Instrumentation
ASSIGNMENTS
In The Netherlands, Germany, France, Belgium, China, Japan, South-Korea, Taiwan, Thailand, Turkey, USA
PHILOSOPHY
In the creation of new products and the application of new product enabling technologies, we focus on the design, to give expression to the social and technological changes that products pass through.
PROCES
We cooperate in transdisciplinairy project teams with e.g. product managers, marketing and sales specialists, scientists, hardware and software designers, engineers, architects, graphic and web designers, manufacturers, suppliers and contractors.
INDUSTRIAL DESIGN SERVICES
• From product design to production engineering (equipment for communication, identification, laboratory, care, marine and domestic; environments for public transport, offices, projects, marine and laboratory)
• User interface design (product and system interaction, graphic design)
• Supply, contracting, project management
• Models, rapid prototyping, pilot series
AWARDS
Kho Liang Ie Prize, Dutch Design Award selection, Good Industrial Design Award, iF-Award, Aluminium Award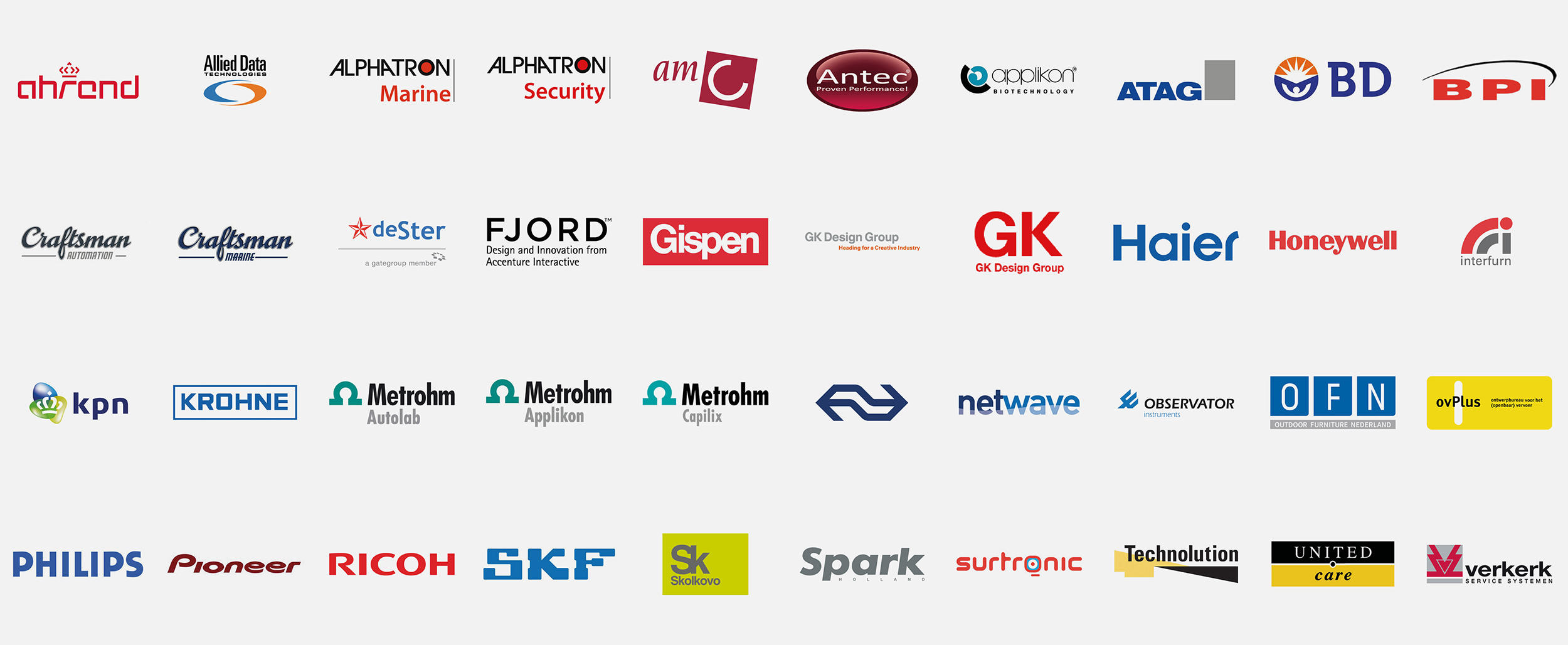 Looking forward to work on your (new) projects:
product and graphic design & product engineering